Lithium iron phosphate (LiFePO
4
, LFP) performed brilliantly in 2021. With requirements on energy density gradually getting reduced in new energy subsidy policy since 2020, an all-new cycle oriented toward high-safety low-cost features has been brought forth. Spurred by technological innovations, such as CATL's CTP technology, BYD Blade battery and Gotion JTM technology and etc, as well as the wide acceptance of Hongguang Mini, Tesla Model 3, BYD Dynasty series and other popular models as a result of cost-reducing and efficiency-boosting effort by downstream car makers, LFP battery has been increasingly recognized for its high cost performance. The sector bounced back strongly in 2021. According to ICCSINO data, China's total LFP output reached 452,700 tons in 2021, up 168.9% year on year.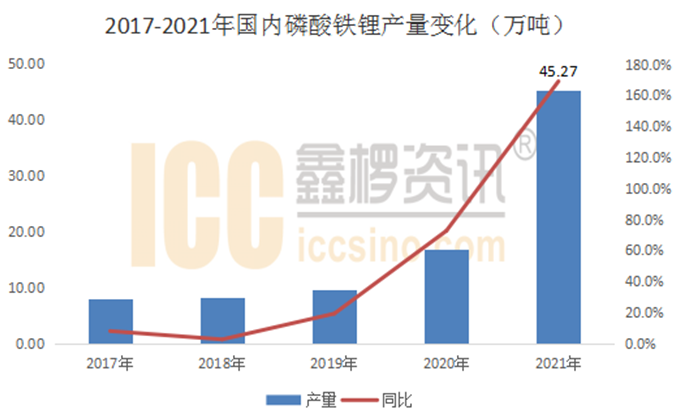 On the enterprise level, with the booming of domestic LFP industry, enterprises at all tiers grew substantially in production and sales in 2021 compared with the previous year. As a result, the concentrate rate of the top 5 (CR5) and top 10 (CR10) enterprises by production volume has decreased, although the CR3 remains above 50%. It goes to show the LFP industry exhibits an evident "head goose effect". Right now, Hunan Yuneng and Dynanonic are two leading enterprises, with obvious advantages in customer structure, product technology and production scale. They combined contribute to more than 40% of LFP products in the market. A moderate concentration of market share is also a sign of gradual drive to maturity for the industry.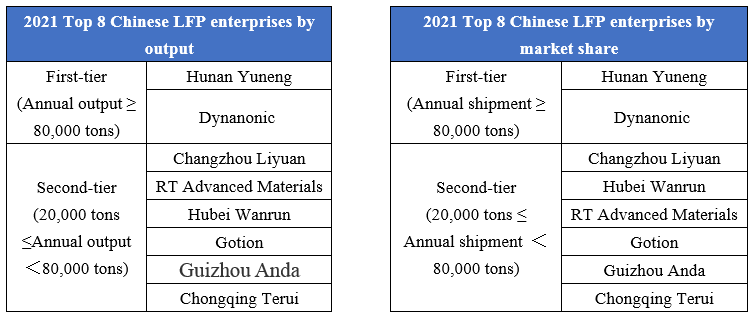 Note: 1. Market share is measured by shipment
2. Enterprise output doesn't include the part by way of outsourcing
3. The data is for reference only. It is subject to company announcement.
The continued boom of LFP market has drawn in a large number of enterprises from phoschemical, titanium dioxide, ternary material and other industries to enter the LFP field. Production capacity planning in the hundreds of thousands of tons can easily be found. At the same time, major LFP enterprises have also been accelerating the pace of expansion. Given the time needed for project construction and customer certification, in 2021 and even till the second half of 2022, the increased demand was and will be largely met by existing enterprises. In 2021, the total LFP production capacity in China reached 898,000 tons, up 168.9% year-on-year.
Compared with ternary materials, the technical threshold for LFP itself is not high. Hence, the capital strength can be regarded as the most direct measure in competition. The emerging RT Advanced Materials is a vivid case in point. The company's product portfolio includes cathode materials and precursor. In 2021, it expanded LFP production capacity at Hubei Daye plant to over 100,000 tons, and the supporting precursor iron phosphate project was also set up. It targets customers in power battery, two-wheeled vehicle, energy storage and other downstream fields. Prompted by brisk demand on multiply fronts, the company's output shot up in 2021. It successfully entered CATL supply system in the second half of the year.
Afterword
The current progressive and massive expansion will also put LFP at risk of overcapacity, inevitably leading to a new round of industry reshuffle in the future. In order to gain the market before that happens, major enterprises generally take an active approach in face of soaring raw material prices - "produce goods as long as raw materials are available". Overall, there will be no excess LFP in 2022. Taking into consideration the end demand, raw material supply, capacity commissioning and many other practical factors, the total LFP output is estimated at 840,400 tons in 2022.