BEV ID.4 will be produced on Volkswagen MEB platform in Shanghai factory. Production capacity of VW Shanghai factory would be 300K units covering battery pack of same capacity. Shanghai Volkswagen factory will be put into production in October.
According to ICCSINO, With Volkswagen's capacity gradually released, its demand for battery will grow dramatically. Currently CATL is Volkswagen's first-tier battery supplier in China, but its supply might not be enough with VW releases considerable production capacity. For VW ID.4 vehicles made in China, CATL would supply NCM batteries. Installed battery volume per ID.4 is 85 KWh. NEDC endurance mileage is 550KM. Battery pack energy density of ID.4 is 175 wh/kg.
In order to fix the supply problem, Volkswagen is expanding cooperation with other battery enterprises to guarantee its battery supply. Besides CATL, Volkswagen has established cooperation with Gotion Hi-Tech and Wanxiang 123. Both of them are expected to enter Volkswagen MEB platform. Previously Volkswagen has acquired 26% share of Gotion Hi-Tech and has become biggest shareholder of Gotion Hi-Tech.
Although acquired by Volkswagen, Gotion Hi-Tech seemed to be slower than expectation in 2020. As we know, Gotion Hi-Tech is good at LFP technology and it has a leading position in Chinese LFP market. But due to CATL & BYD's rapid expansion in LFP passenger vehicle market, Gotion Hi-Tech lost some market share in Chinese LFP market in 2020.
Table: 2019-2020 Gotions installed NCM & LFP battery proportion changes in China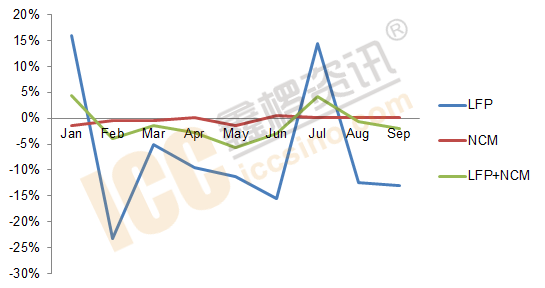 Therefore, there were a lot of changes in 2020 in Chinese lithium ion market. ICCSINO would do analysis on some changes about CATL & LG Chemical on 30th Oct. Let me know if you are interested. For webinar registration, please contact rachelliu@iccsino.com. Please send your information of company name, main business, country, participant name. After confirmation, you will get webinar links.