Non-cobalt batteries probably be applied in Tesla vehicles which made LFP battery obtain more attention. Previously BYD's "blade battery" made LFP warm up. As earliest participant in LFP market, BYD deserves more attention in 2020.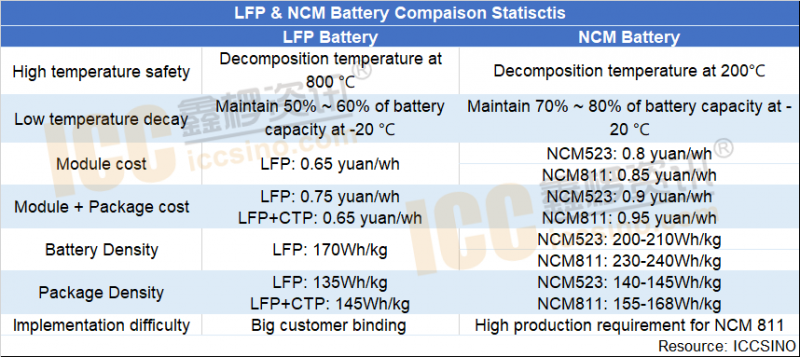 In 2019 BYD's performance did not reach our expectations due to policy subsidy decline and single customer structure. According to ICCSINO, BYD sold 196688 units of electric vehicles, Y-O-Y down 12.67%. Moreover, BYD's total installed vehicle battery was 10.621GWh whose ranking descended to 4th in 2019 compared with 3rd ranking in 2018. Besides, BYD's proportion in global Top 10 installed vehicle batteries was 10.45% in 2019, Y-O-Y down 27.03%.

Obviously it is the era for strong alliance between battery enterprises and automakers worldwide. ICCSINO deems that BYD would lose more market share if it did not open its battery business since single customer structure would be harmful to scale benefits of battery production.

For the purpose of consolidating its status in e-mobility market, BYD actively establishes cooperation with other international automakers. In 2019, Toyota and BYD established a joint venture, and will explore more in the new energy industry. Besides, BYD also cooperated with Mercedes-Benz. They will focus on the electrification of the smart brand. ICCSINO speculates that there is chance that Toyota and Mercedes-Benz possibly apply LFP batteries in vehicles in future along with LFP technology upswing.


It's worth mentioning that BYD's plant in Chongqing, China will be put into production in March, in which 20GWh LFP & CTP capacity will be gradually released, which means that BYD's LFP battery proportion will grow significantly in 2020. According to ICCSINO, BYD Installed LFP battery is 2.89GWh which took up 28.35% in its total installed batteries. Furthermore, BYD's LFP proportion will reach 50% in 2020, Y-O-Y up 76.36%.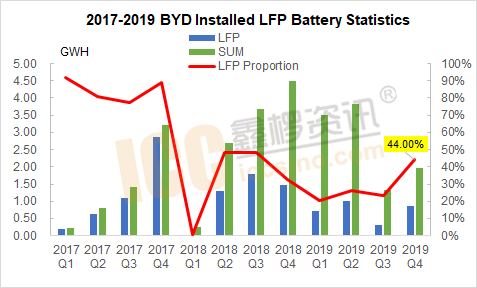 In summary, ICCSINO estimates that LFP battery demand is likely to be increased in 2020 especially BYD would change its NCM & LFP battery structure dominantly. Once Tesla applies LFP batteries on vehicles in China, LFP battery demand would be further enhanced. However, overall NCM & LFP structure would be unchanged based on following perspectives:


1. Although LFP demand grows in 2020, NCM demands soar simultaneously. Therefore, NCM & LFP share won't change much in 2020.
2. BYD's blade battery performance is better than normal LFP battery which might be installed in high-end EVs. However, LFP energy density is still unsatisfactory compared with NCM which means LFP battery will be mainly installed in middle and middle-low end vehicles.
3. Assuming that Tesla applies LFP battery in Chinese made Model 3, ICCSINO speculates that there are 2 versions of Model 3 in China which are respectively economic Models 3 with LFP battery and high-end Model 3 with NCM 811 battery.

How do battery and material enterprises respond to such reform? For more please subscribe our Analytics & Forecast: Global Lithium Ion Industry Chain Monthly Report. (Contact: rachelliu@iccsino.com)