2020 seems to be a year with more fierce competition for lithium ion industry. Not only automakers and battery enterprises strengthen cooperation, but also cathode material manufacturers and precursor companies follow the step. GEM and ECROPRO signed a memorandum on high nickel precursors, which means GEM expands swiftly which could meet battery demands of 145GWh in 2020-2026 and deeply participates in supply chain of Samsung SDI.
According to the announcement by GEM on the evening of February 2, GEM and ECOPRO BM signed a memorandum on the procurement and cooperation of 811, NCA and 9 series precursors for lithium ion batteries.
Regarding this agreement, ICCSINO found some signals:
1. GEM expands precursor capacity rapidly and could meet battery demands of 145GWh in 2020-2026
According to the agreement, GEM will supply 254KMT of ternary precursors to ECOPRO from 2020 to 2026, which could meet battery demands of 145GWh. According to ICCSINO, GEM will supply 90KMT NCM precursors to ECROPRO in 2020, with CAGR of 87.58% from 2023 to 2020.
In 2019, ECOPRO's NCM production capacity is 30KMT, of which 24KMT in Cheongju and 6KMT in Pohang. According to the expansion plan, ECOPRO will have production capacity 88KMT of NCM materials.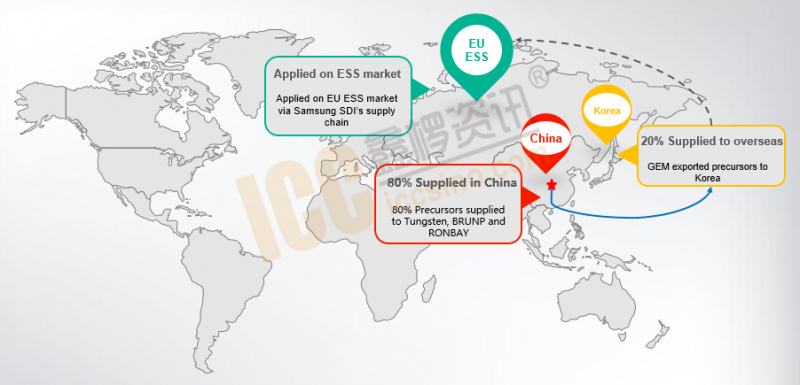 2. GEM in-depth participates in the supply chain of Samsung SDI
Samsung SDI is the main downstream customers of ECROPRO, with cooperation between GEM and ECRPRO deepening, GEM has turned into the key link in SDI's supply chain.
In addition to reaching in-depth cooperation with ECOPRO, GEM has also received orders for high-nickel precursors from LG Chem and is expected to achieve large-scale shipments in 2020.
It's worth mentioning that GEM is also a significant participant in Chinese e-mobility market. In 2019, GEM has signed framework supply agreements with BRUNP, RONBAY and Tungsten, with total supply exceeding 100KMT, which means that GEM is also in CATL and BYD's supply chain. Although the output growth rate in China in 2019 has declined, GEM's growth rate is still higher than average with more than 50% and its market share of NCM precursor output has exceeded 20%.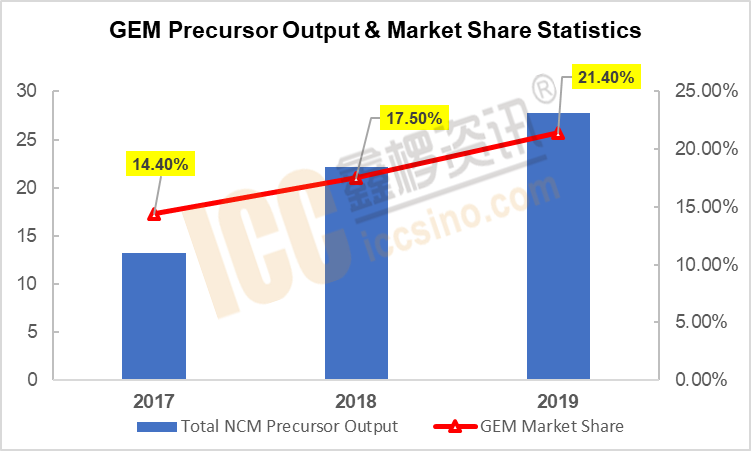 In summary, GEM will take a leading position in global NCM precursor market in the supply chain of Samsung SDI and become a strong competitor to UMICORE