Based on the new EU carbon emissions standard, Volkswagen Group faces automotive electrification transformation.

Volkswagen's total EV sales only accounted for 1.83% in 2018. Driven by European CO2 emission policy which requires emission no more than 95g/Km since 2020, European traditional automakers are driving e-mobility forward with a consistency and commitment. Volkswagen is no exception. Volkswagen operates 47 production sites worldwide, in which 26 sites in Europe, 16 sites in Asia, 4 sites in America, which are 3 biggest vehicle consumption countries in the world as well.
Volkswagen expansions quickly in China and Europe.
In China, Volkswagen plans to invest over 160 million euros towards e-mobility. VW will set up production sites in Shanghai and Foshan, which might have a battery demand of 150 GWh, with CAGR of 99.85% from 2019 to 2025. Volkswagen has signed agreement with CATL in China. CATL is the biggest battery manufacturer in China, which developed rapidly in the past 5 years, with CAGR of 87.65% from 2015 to 2019. And CATL will continue to improve production capacity at a high growth rate. Hence Volkswagen could realize electrification in China at high speed rate with strong battery supply support from CATL.
The European market is undergoing a reform. Fuel vehicles share decreased, Instead e-mobility proportion increased. Volkswagen will convert 3 factories in its home market to manufacture e-cars respectively in Emden, Hannover and Zwickau. To avoid fines from EU government, Volkswagen plans to accelerate e-mobility development in Europe, whose battery demand is estimated to reach 150 GWh in 2025 and 300 GWh in 2030. For US market, Volkswagen will invest $800 million (€690 million) in its Chattanooga with annual capacity of 180K units in 2023.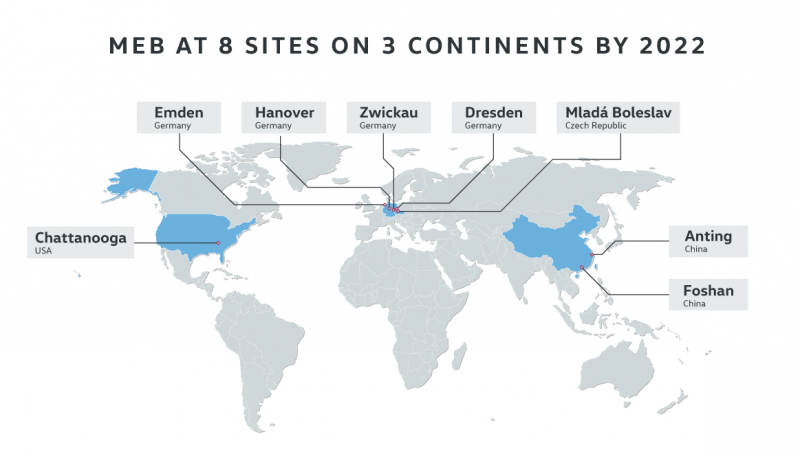 Volkswagen's strong backup from battery suppliers.
Volkswagen's battery supply system spans worldwide including LG Chem, SK Innovation, and Samsung SDI besides CATL.
As VW's supplier, LG Chem supplies NCM pouch battery to VW for its EU market. LG Chem is expanding capacities in Poland and capacity is expected to be 70 GWh in 2025. In addition, VW plans to form a joint venture with Northvolt within a 50:50 equity ratio this year, and to build a battery plant in Europe with capacity of 16 GWh.
Likewise SK announced that it has invested $3 billion to build new battery plants in China, Hungary and USA to boost capacity, with CAGR of 80% 2018-2022.In sake of battery supply stability, SKI has signed a 6-year deal to buy up to 30KMT cobalt from Glencore, allowing it produce batteries for 3 million e-vehicles. In addition, SDI is establishing battery production sites in Europe as well, which is accordance with Volkswagen's plan.
Volkswagen's high nickel battery share will grow which is similar to Tesla's tactic.
ICCSINO anticipates there is possibility that Volkswagen's electrification route will be similar to Tesla's high nickel battery tactic. Tesla cars have been equipped with NCA supplied by Panasonic, whereas its battery system in Chinese market will be NCM 811 which belongs to high nickel. Compared with NCM 523 & 622, NCA & NCM 811 energy density would be higher that reach 260 wh/kg, which has endurance mileage of around 445KM. That's why Tesla always use high nickel battery in its vehicles to satisfy customers' demand for high endurance mileage.
As Tesla's and VW's mutual battery supplier, LG Chem's supply materials are mainly NCM 811, which is corresponding to VW's positioning in high end market. Except LG Chem, CATL, SKI, SDI going towards high nickel development as well. According to ICCSINO, high nickel (NCM 811) batteries in CATL's total NCM system would be Y-On-Y up 173.47% in 2020. As speaking of SDI, high nickel (NCA) accounts for at least 20% in SDI's total products.
In Conclusion, high nickel trend is irreversible. But high nickel is much more expensive than NCM 523 & 622. Downstream cost reduction would trigger pressure for upstream material companies. ICCSINO believes that NCM 811 processing cost will continue to decline in years to come which is good for speeding up high nickel electrification in the world. ICCSINO predicts that is possibility that Volkswagen's high nickel battery share will grow in the coming years which is towards Tesla's high nickel tactic
Volkswagen said in a statement, "We are considering an investment in a battery manufacturer." Automakers establishing own battery supply systems may become the next trend.