On December 3, the Ministry of Industry and Information Technology issued the "Development Plan for the New Energy Vehicle Industry (2021-2035)" (draft for comments) (hereinafter referred to as the "Plan") and publicly solicited opinions.

After reading the "Planning" in detail, ICCSINO grabbed the core content of power batteries, summarized and analyzed as follows.
1.

Electric vehicle sales will account for about 25%


The "Planning" proposes that after 15 years of continuous efforts, pure electric vehicles will become mainstream, and public sector vehicles will be fully electrified. By 2025, major breakthroughs will be made in power battery technology, and new energy vehicle sales will account for about 25%
2.

Emphasis on marketization and capital power


The "Planning" puts forward the emphasis on perfecting the market-oriented operation mechanism of power batteries, relying on the capital market to promote the optimization and reorganization of power battery and other related companies
The "Planning" emphasizes marketization and capital strength, and it is possible that subsidies will further decline and accelerate the industry reshuffle effect.
3.

Pay attention to the power battery recycling industry chain


The "Planning" encourages qualified enterprises to improve their ability to guarantee key resources such as lithium, nickel, cobalt, and platinum. Establish and improve the modular standard system for power batteries, accelerate breakthroughs in key manufacturing equipment, and improve process levels and production efficiency.
The "Planning" requires the improvement of the recycling system for power battery recycling, step utilization and re-recycling, and encourages joint construction of shared recycling channels.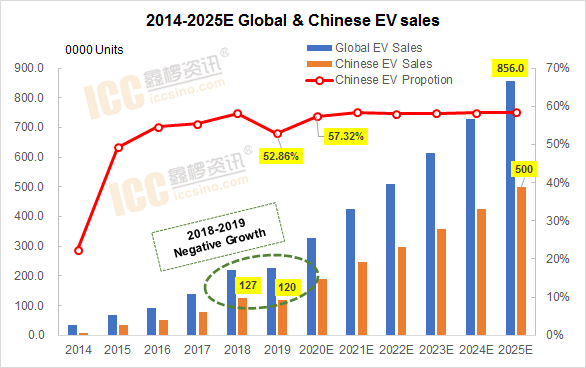 The "Planning" aims to promote the high-quality development of the power battery industry, accelerate the technological progress and market share growth of power batteries
ICCSINO predicts that Chinese EV sales in 2019 will be 1.2 million units, Y-O-n-Y down 5.51%, which is lower than expectations. In spite of lower expected EV sales in China in 2019, Chinese EV demand will definitely grow under Chinese planning to accelerate electrification. ICCSINO estimates that Chinese EV sales will be 5 million units which account for 58.41% in global total EV sales, with CAGR of 26.85% from 2019 to 2025.