China's auto growth rate declined in 2019. In terms of new energy vehicles, although sales have fallen for 4 consecutive years since July, car companies' passion on EV remains undiminished. Statistics show that of the 1,050 cars on display at the Guangzhou Auto Show this year, the number of new energy show cars was 182, accounting for nearly 17%, Y-On-Y 3%.
Chinese Experts have different perspectives on 2020 Chinese car & electric vehicles market. Some opinions as follows:
Lang Xuehong, deputy secretary-general of the China Automobile Dealers Association, said at the annual meeting of the China Automobile Dealers Industry that Chinese auto market will show at least a 10% negative growth, and an optimistic estimate can reach 22.5 million vehicles.
Cui Dongshu, secretary general of the National Passenger Car Market Information Joint Committee, is relatively optimistic. He said that with the gradual effect of Chinese national tax and fee reductions, the market will improve next year, and annual car sales will increase by 1%.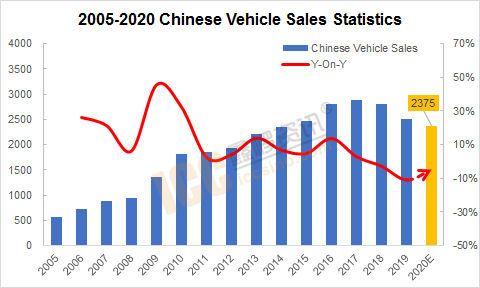 Wang Qing, deputy director of the Institute of Market Economy of the Development Research Center of the State Council, predicts that the market decline will be significantly narrowed in 2020, and the positive growth is expected to under an optimistic situation. Lang Xuehong pointed out that according to the cyclical adjustment of the US, Japanese, and Korean auto markets, it usually takes 3-5 years from recession to recovery, and in the medium and long term, China's auto market still has a lot of room for development from the top.
Nevertheless, some experts are optimistic on 2020 market. Wang Yongqing, General Manager of SAIC-GM said that although electric vehicles face many problems and it is still very difficult for electric vehicles to enter the family in the short term, the long-term development trend has been irreversible driven by Chinese "double points" policy. Wang Yongqing said that during the rapid growth of the auto market, enterprises grab market by "price war", but when the auto market was in negative growth, the "price war" was meaningless.
Some experts believe that the trend of the auto market next year is full of uncertainty. Whether there will be any substantive policies to support and guide the consumption of the automobile market next year in China is still unknown.
According to China's population decline rate, ICCSINO conservatively estimates that China's car sales in 2020 will be 23.75 million, Y-On-Y down 5%.
ICCSINO offers research & consulting service, covers global EV, lithium ion battery, cathode, anode, mining etc. We help corporate strategy, finance and policy professionals navigate change and generate opportunities. Available online, on mobile (APP).