In September, domestic flake graphite market was in upward trend M-To-M. Meanwhile supply volume increased dramatically, in which import volume increased M-To-M 80.08%.
1. In September, domestics flake graphite import M-To-M up 80.08%, exports M-To-M down 7.17%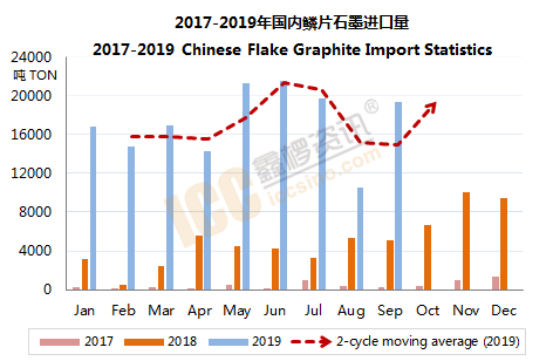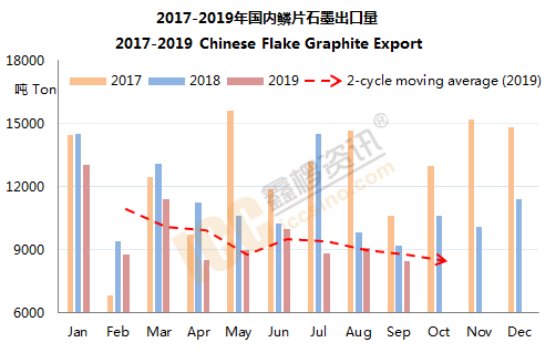 In September, domestic refractory demand uplifted. According to customs statistics, domestic flake graphite imports in September 2019 increased significantly to approximately 19400 tons, an increase of 83.08% from August.
ICCSINO predicts that the import of flake graphite will remain high in October.
In terms of exports, domestic flake graphite exports fell slightly to 8400 tons in September, M-To-M down 7.17%. According to ICCSINO, flake graphite export will continue to decline slightly in October.
2. Domestic flake graphite imports from Mozambique & Madagascar rose sharply in September.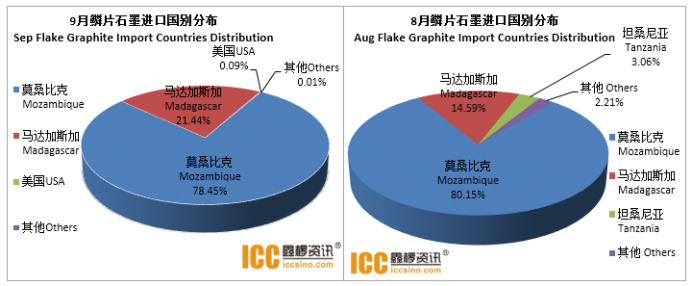 According to ICCSINO, in September 2019, the proportion of domestic imports of flake graphite from Africa was still as high as 99.90%, of which imports from Mozambique increased by 79.21% from August, accounting for 78.45% of the total which declined M-To-M.
Imports from Madagascar increased by 169.17% M-To-M, accounting for 21.44%.
Conclusion: In 2019 Q4, domestic demand declined. ICCSINO predicts that domestic flake graphite market will maintain weakening.